Arlington Navigates a Changed World in the Wake of George Floyd and Black Lives Matter Momentum
The Black Lives Matter (BLM) movement gained rapid momentum this summer, following the killing of George Floyd. Communities nationwide found themselves both united and divided over the issue of policing, prompting protests, riots, and escalating tensions between those who support the BLM movement and those who do not. 
In Arlington, citizens have been vocal about their views and beliefs. Many properties display Black Lives Matter signs while others display pro-police signage (the latter of which is not inherently anti-BLM, but is taken by some as a counter-symbol to the movement). On September 10th, Back the Blue supporters gathered in front of Arlington town hall where they were met by Black Lives Matter counter-protestors. Although the demonstrators were relatively peaceful, the dueling events highlighted tensions that surround policing within Arlington itself. "All lives can't matter until black lives matter," read one counter-protester's sign, while another read "No justice, no peace." Many Back The Blue protestors were seen at the event waving either American or Thin Blue Line flags. The Thin Blue Line flag symbolizes support of law enforcement officers. 
Clara Webster is an Arlington High School (AHS) student,  and member of Calvary Church, which is located on Mass Ave. She was present at many of the Black Lives Matter demonstrations organized by AHS students that members of her congregation attended over the summer. When Calvary heard about the demonstrations, Clara said, they showed their support by demonstrating in front of their church, thus extending the protests down Mass Ave. "The reason that so many people in the church I go to believe in the movement and wanted to take part in supporting it is because the church community itself is so built on respecting one another," Clara explained in a recent interview. "It's really important to emphasize [that] Jesus was a social justice leader and believed in justice and love." On weekdays during the summer, the number of demonstrators in front of Calvary was often small, while on weekends, headcount topped 30-40 attendees at times. "Every single person of color that walked by would always say something or cheer us on […], and a lot of white people just ignored us," Clara noted.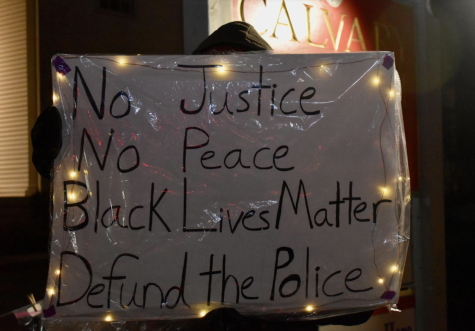 As a boy, Arlington Police officer Bryan White would always wave to the policeman that drove up and down his street. Although he was open to other career paths growing up, the idea of being a police officer always lived in the back of his mind. When the Insider asked Officer White about his opinion on the Black Lives Matter movement, he made a distinction. "I think there's the group that's BLM, and then there's the movement that Black lives matter which is just what I think is trying to bring awareness that people of color have been discriminated against. And I'm all for people standing up for that, and I believe that Black lives matter, and I also believe that there's many good people in my profession, and there's no one that I know that doesn't believe that black lives matter in the police department." 
As the town's school resource officer, White has experienced firsthand the exacerbated tensions between students and police. Earlier this year, he was invited to  a meeting with the AHS Political Action Club, where they engaged in discussion about policing. The meeting lasted around three hours, and was described as heavy but respectful. In a separate instance, some Arlington middle schoolers shouted "ACAB" (all cops are bast***s) at Officer White while he was driving in his police car. He reports then stepping out of his car and inviting the students into open dialogue. "The officers in Minnesota, they kind of messed up for all of us," Officer White explained.  "We kind of have to wear that for a little bit. They messed up so bad that we have to kind of take responsibility for that and just try to correct it and let people get out their frustrations to a certain point." 
According to White, after the killing of George Floyd, the patrol officers' union, ranking officers, and the Arlington Police Department (APD) chief issued statements denouncing Mr. Floyd's murder. The APD has also reestablished the importance of colleague intervention to decrease cases of racial profiling in policing. If one police officer is acting in an inappropriate manner due to a citizen's race, it is the duty of that officer's colleagues to stop and report the behavior. Still, Clara Webster feels as though Arlington police could be doing more. "I'm kind of disappointed with Arlington Police to be honest with you," Clara said, "A lot of police have said some pretty racist things in the past year and nothing's really happened around that."
Officer White understands how upset citizens may be feeling right now, and sees conversation as a way to create trust between police and the community. "If someone wanted to have a conversation with me and express their fears or their concerns, […] I'd one hundred-percent do it. Everybody I know in the department would do it, too," Officer White explained while encouraging students to reach out to the APD with concerns. "Just know that every police officer is a person, and they have some kind of family that they want to get home to. But when they're at work they're just thinking about other people getting home to their families […]. Anybody that doesn't do that as a police officer is not a true police officer. Sure, there might be bad police officers around, but most of us are here to help you."
In the future, Clara Webster hopes for a more diverse and equal-opportunity Arlington. "There is still so much that Arlington can do and doesn't do [about racial inequality], but it's great that we are at least having these conversations and bringing it into the town," she remarked to the Insider. Webster believes that change starts in schools and that the town should focus on cultivating diversity and racial representation within the classroom. When asked why she believes people should support the Black Lives Matter movement, Clara said this: "This is really a fight for justice for everyone, and when a certain group is marginalized and oppressed, that's not a good situation for anyone in the world at that moment, because we're not all being the best humans we can be when we're not working together."