You've got to CLove Cake: Blueberry Coffee Cake
Greetings, Earthlings!
I have always hated the fact that coffee cake is called coffee cake. There's no coffee in it! And although I understand people call it coffee cake because they eat this cake with coffee, chocolate cake has chocolate in it, and I don't eat more chocolate with the cake! Same for lemon, vanilla, and orange cakes, the list goes on. I do admit, I am more of a tea person anyways. I have no intentions of eating coffee cake with coffee. So, I decided to change the name to "breakfast cake" instead. You drink tea and coffee at breakfast, so why not? =) The weather was nice, so I took my cake out for a backyard picnic. Perfect for a mid-morning snack with tea.
Cloves
Syzygium aromaticum, or cloves, originally came from the appropriately named Spice Islands of Indonesia. It was discovered over 2000 years ago and became one of the most prized and expensive spices in Europe after Portuguese traders brought them from Indonesia to the European countries. Cloves have their own dangers, though. Similarly to cinnamon, excess consumption of cloves can lead to blood thinning. However, the compound in cloves is different from that in cinnamon. In cloves, there is eugenol, (which is what makes cloves a good pain reliever) whereas in cinnamon there is coumarin.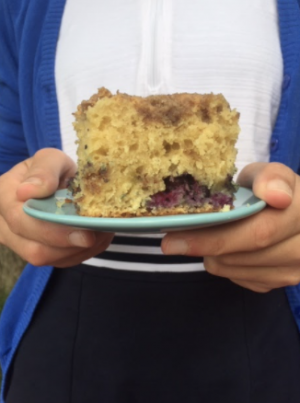 Blueberry Coffee Cake
This week, I was scrambling to think of an idea of what to bake. We accidentally ordered two boxes of blueberries this week, so I figured I might as well try to bake something with those. The first thing that came to mind was the blueberry cake that my neighbors made for my family some time ago. We asked for the recipe and we've had it ever since. So, I thought of a flavor combination between blueberry and… cloves? I added some streusel into the cake and that became my new blueberry breakfast cake. The base cake recipe is from Granny's Best Ever Blueberry Sour Cream Cake by Sara Lane, which was submitted to the Bowman International Cookbook, a school-created collection of recipes. I was unable to track down Sara Lane, but I have disclosed my revised version of this recipe.
Until next time, 
Spice Girl
Recipe
Makes: 1 cake (approximately 9 servings)
Prep Time:
Cook Time: 50-55 minutes
Difficulty: Intermediate
Ingredients
Streusel
-6 tablespoons light brown sugar
-½ cup all-purpose four
-1 teaspoon ground cinnamon
-¼-½ teaspoon cloves (more on that later)
-4 tablespoons unsalted butter, cut into ½ inch cubes
Cake
-2 cups flour
-1 teaspoon baking powder
-1 cup yogurt
-1 teaspoon baking soda
-½ cup butter, room temperature
-1 cup sugar
-3 large eggs
-2 cups blueberries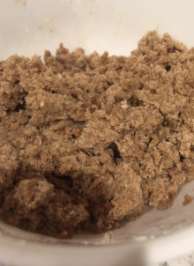 We'll start with the streusel. For those who are unaware, streusel is a crumbly topping that is often put on top of pastries.They are made up of sugar, flour, and fat, and usually cinnamon is added. First, you'll want to combine all the dry ingredients. Mix the sugar, flour, spices, and salt together. We found the cloves to be a little strong, and it overpowered the cinnamon. Feel free to lower to just ¼ teaspoon of cloves if you

like!

Add in the butter. Use your fingers to break up the chunks and to fully incorporate all of the ingredients together. Then, refrigerate until you need the streusel. Sample photo to the right.

Then begin the cake! Preheat your oven to 325 degrees Fahrenheit.

Grease a 9×9 inch pan with your preferred baking grease.

In a bowl, combine your flour and baking powder together. In a separate bowl, add the yogurt and baking soda together.

In yet another bowl (lots and lots of bowls!) cream together the butter, sugar, and eggs. I realize I never really explained creaming before. Tip: Creaming is when you use a hand beater to whisk the butter with sugar and sometimes other ingredients. The consistency should be sticky and have a soft shape. 

Then, take your yogurt mixture and your flour mixture, and alternate as you add them into the creamed mixture. I creamed my flour mixture (FM), then my yogurt mixture (YM) and continued to alternate for a total of five rounds (FM, YM, FM, YM, FM.)

Then, take 1 cup (which is half of your total) of blueberries and carefully fold into the mixture. Tip: Folding is when you use a spatula and carefully make a folding motion. Then, turn your

bowl a few degrees and repeat until you get all the way around and you have a mostly even incorporation.

Scoop half of the mixture in the pan. Then, sprinkle some streusel and the remaining blueberries on top. Then, scoop the rest of the mixture on top. Spread the rest of the streusel on top as your last layer, then pop it in the oven. Bake for 50-55 minutes.

Enjoy!