Spice Nerds Unite: Spicing Things Up Special Edition!
Hello, my friends!
I missed you all over vacation, but I've been cooking up something fun! For the tenth column installment, I've decided to do something a little different. I spoke to Jennifer Wood, founder of Herd Nerd Spice, a local small business that sells spice blends. Ten is the perfect number this week because it's a landmark number and the exact number of years that Ms. Wood and her husband spent working on their special spice blend. As they like to say, "Only a nerd spends ten years perfecting smoky, spicy goodness."
Herd Nerd Spice
So this week's Spice of the Week is a spice blend. Herd Nerd Spice mix is a blend of all our favorite spices, including smoked paprika, various chili powders, cumin, and more! This blend has a very unique flavor, and according to the Boston Globe, is a great option "in place of table salt when you wish to add nuance and raise the flavor level of a dish."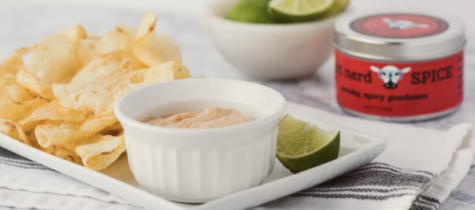 Jennifer Wood & Herd Nerd Spice
Ms. Wood was kind enough to let me interview her about her business, which is run completely online. Wood explained that she started the business when they noticed that everyone who tasted their homemade spice blend really liked it. "I thought we were really onto something," Ms. Wood explained. "I started out very small, but [our blend] soon grew to [sit on the shelves of] more than 50+ stores and has been featured in The Boston Globe, Edible Boston, and now the Ottoson Insider!" The logo, designed by a local Arlingtonian from Beaumont Design, features a bespectacled cow. Ms. Wood explained that Herd Nerd "was originally made for meat, and we are a bit nerdy," thus creating the combination logo of the cow and the glasses. After a while, Wood realized that Herd Nerd could work with many other dishes, including (but not limited to!) popcorn, fish, dips, and chips. Ms. Wood was kind enough to share her recipe for Herd Nerd aioli, which will be linked below! 
Herd Nerd Aioli
Aioli was originally a Mediterranean dip made from lots of garlic ground up with olive oil and salt using a mortar and pestle. These days, most just mix mayonnaise and garlic together to create their own version of aioli. This aioli is a step up from that, with the addition of Herd Nerd and lime juice. Feel free to check it out! 
Well, in the words of Ms. Wood, "keep experimenting!" Enjoy this special dip and see you next week!
Thanks for reading!
 -Spice Girl
Check out Herd Nerd here. 
Recipe
Makes: Approximately 1 cup aioli
Prep Time: 5 minutes
Cook Time: None!
Difficulty: Easiest ever!
Ingredients
-1 cup mayonnaise
-2 teaspoons Herd Nerd Spice 
-3 cloves garlic
-1 tablespoon fresh lime juice
Using a mortar and pestle, grind up your garlic to a paste. This is the more traditional way to make aioli, and what we did, but feel free to leave chunks or use a food processor!

Add in your mayonnaise, Herd Nerd, and lime juice. Mix really well so that all ingredients are incorporated evenly.

Refrigerate for one hour, covered. This will thicken the mixture, and make it super creamy.

Enjoy with sweet potato, chips, or your favorite snack! 
Original recipe: https://www.herdnerdspice.com/herd-herd-spice-aioli