It's Go Thyme: Sweet Potato Quiche
Howdy There!
It's another Monday, another recipe! I am very excited to share this week's creation!  
Well, it has come to my attention that my recipes are more snack-y and not very healthy. Don't get me wrong, my family is very health-oriented. It's just that most of my cooking and baking projects are for my enjoyment, and not for nutrition. My parents do the actual health food. Even so, I decided that this week I'd venture into the world of healthy breakfast…with quiche! Quiche is still not the healthiest food on the planet. There's a whole stick of butter in this crust! However, I'm taking baby steps. Who knows, maybe I'll do something vegan sometime soon.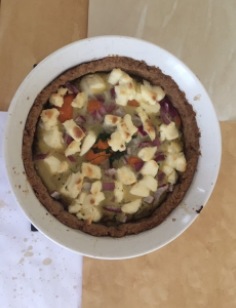 Thyme
This week's Spice of the Week is thyme. Thyme has a quintessential fall flavor, and you can't deny that it tastes like home. Even though it tastes nice and warm, its scientific name, Thymus vulgaris is anything but warm. I don't know why it's named vulgaris, but I'm guessing whoever named it was not a big fan. Oh well.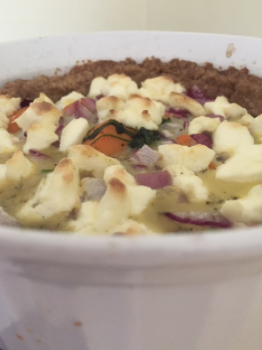 Sweet Potato Thyme Quiche
My favorite dish with thyme is pumpkin soup, but I thought it would be good to switch it up and try something new, so here weare, with a surprisingly good experimental dish! I have to say, the name I've given this quiche is a bit misleading. It has loads of good stuff in it, not only sweet potato! I also added some lovely arugula, onion, egg; really nice ingredients. Well, enough talking, let's start cooking!
Well, I'm off now!
See ya next week with something sweet!
Spice Girl
Recipe
Makes: 1 quiche. Approximately 6 servings, but depends on your appetite, haha.
Prep Time: 1 hour
Cook time: 30-40 minutes
Difficulty: Intermediate difficult
Ingredients
Crust:
-1 stick of butter, unsalted (if it's salted, omit our salt measurements)
-1 ¼ cups flour. We used whole wheat flour.
-1 tablespoon sugar
-½ teaspoon salt
-6-8 tablespoons ice water
Filling:
-½ cup onion
-⅔ cup sweet potato
-½ cup arugula (after cooked)
-⅓ cup of cottage cheese, cream cheese or your preferred soft cheese
-3 eggs
-¼ cup milk
-¼ teaspoon pepper
-½ teaspoon salt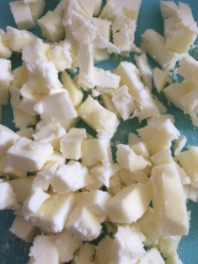 -¾ teaspoon thyme
First, make the crust. We cut our butter into small cubes and refrigerated them so that the butter would be nice and cold. Reference picture to the right for size. Tip: for a nice, layered pie crust, keep your butter as cold as possible for as long as possible!

Don't throw out your butter packaging! There's likely still some butter bits stuck to it. Use that to grease your pan/ramekin.

Mix your dry ingredients in a separate bowl. These are your flour, sugar, and salt. Oncethose are fully incorporated, add in your butter all at once. Mix roughly to create a coarse meal. Reference image to the right.

Add in your ice water little by little until your dough can stick to itself well. Create a few balls and cover. I suggest tupperware, but cling wrap works as well. 

Place the dough in the fridge for one hour.

Now, begin the filling. We cooked the arugula for 3 minutes, just to ensure that it was soft (but not overcooked!) because we will put it in the oven later too (we put it in a pan over medium heat. Maybe use a tablespoon of oil and added in ½ cup water.)

 Soak your onion in some ice water. We used the extra water from the stuff we needed to add to the dough. This is just to take the sting off of the onion because we're not cooking it before we put it in the pie.

Then, cook your sweet potatoes. We peeled and then cut them into cubes before we put them into a pot. We decided to cook them with water, so we put some boiling water in a small pot and cooked the potatoes until they were soft and easily forked. Tip: When cooking sweet potatoes, since they're pretty big and hard, cut them up to reduce cooking time! Additionally, you know it's done when the fork can easily spear them because that means they've softened up.

 Then for the eggs. Crack three eggs into a container, and whisk them together.

 Add in the additional ingredients: Milk, salt, pepper, and thyme. Feel free to add more thyme! It looks grey and gross, but it tastes amazing!

Preheat the oven to 375 degrees fahrenheit.

 It's time for assembly! Take your pie crust out of the fridge and roll it out to be larger than the ramekin. Ours was crumbly (all that nice butter!!), so try your best. I went in to use my hands and pushed it in once the base was in place.

Then, poke holes in the bottom of the crust and blind bake. We put it in the oven for 20 minutes. Tip: Blind bake your crust (that just means put it in the oven without filling) so that the bottom isn't soggy later!

 Once it's done blind baking, put your ingredients in! Since it's a quiche, you can just toss it in, no arrangement necessary.

 Lastly, pour in your egg-milk-thing. This will eventually hold your dish together.

 Then, pop that in the oven for 40 minutes or until the egg mixture has a bit of a spongy texture.

Enjoy!