Youth Banner Contest Winners Announced, Banners to Be Hung on Mass Ave in the Spring
In December 2020, Arlington students grades 6-12 worked on art projects based on the theme "Protest: Lifting Voices." Students entered their 2-D art into a town-run contest for the chance to see their banners displayed in Arlington, on Massachusetts Avenue. This past week, the winners of the Youth Banner Initiative were announced, among them six students from Ottoson Middle School. 
One of the winners is seventh-grader Ezinne O." I […] wanted to turn the pain and injustice I saw on TV every day into hope for the future. When I found out about this contest I felt like it was a way for me to take a stand and find a way to put my expressions into a vision," said Ezinne about her winning banner entry. Her artwork depicts people moving past a banner that reads "All Voices Matter," symbolizing "a new chapter." Ezinne, in a recent interview, stated that a major theme in her piece is unity. "In this piece, I tried to convey […] what happens when people from all walks of life come together to share their voices […]." Ezinne hopes young people can come together and fight for causes they care about and realize they can make a difference regardless of their age.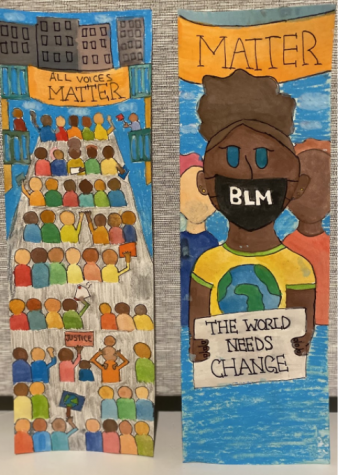 Ana G-S, an eighth-grader at Ottoson, is also a winner of the Youth Banner Initiative. Her banner shows an Indigenous woman with a red handprint on her face, symbolizing the violence and prejudice Native American women face. Ana stated "My main goal was to raise awareness of the injustices that Indigenous women go through. I want people to be inspired to fight all types of discrimination, no matter the reason for it." She asserted that as a society, we have an obligation to fight injustice and support minority populations in our community.
In these banners, there were four main criteria that panelists were looking for. The first criterion was based upon the thought that went into the composition. There needed to be a meaningful interpretation of the theme "protest." The second, readability, required that when seeing the banners from afar, people would be able to understand the message. The third criterion, craftsmanship, focuses on the execution of the project. The final product had to look polished and finished. Lastly, the banner had to be original. The artist's idea had to be interesting and authentic, and the panel had to ensure that the idea was the artist's own. 
The Banner Initiative has been recurring since 2016 and is funded by the Gracie James Foundation, a foundation that was started after the death of young Arlingtonian Gracie James. Gracie was a talented artist who died at the age of 17. This project has helped Arlington students express themselves and share their art with our town. Notwithstanding the pandemic, the Banner Initiative has not been put on pause. In these tumultuous times, opportunities that lift student voices are more needed than ever. After all, art has always been a way for humans to express themselves, and it has power. Ezinne explained "It[This Banner Initiative] was important to me because often I see the injustices and problems that go on in the world every day.[…] I put them [the ideas I had] to paper, which I think achieved my goal better than words could've." 
Congratulations to all the Ottoson winners:
Ana G-S.
Ellie B.
Lucia G.
Ezinne O.
Oona K.
Kira P.