What happened at the 2022 Oscars?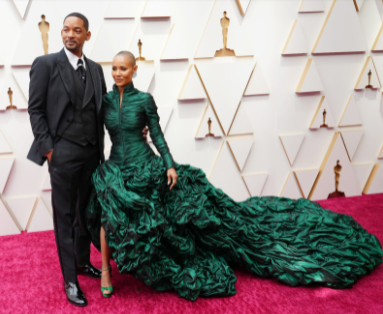 The Oscars were last weekend, and since then, there have been rumors swirling about someone slapping a comedian, how gorgeous Nicole Kidman's Armani dress was, and what happened at the Vanity Fair afterparty. Here is more on all that, including spotlights on several celebrities' outfits, awards, and other events. 
First off, the outfits. Nicole Kidman (nominated for Best Actress) wore a custom-dyed light blue Armani gown with a train (as seen in the sidebar photo). Billie Eilish wore a black Gucci gown with cascading ruffled layers and an upcycled set of rings, made from a 19th-century tiara. Zendaya (who came in support of the sci-fi movie Dune) wore a sequined floor-length skirt paired with a silk collared crop-top made by Valentino Haute Couture. She also added stacked matching Bulgari Serpenti Viper bangles and topped it off with white gold and pavé diamonds. Next up is Andrew Garfield. The Spiderman actor opted for a Saint Laurent maroon velvet suit and a black shirt. Finally, Best Actor award winner Will Smith wore a Dolce & Gabbana black suit and tie alongside his wife, Jada Pinkett Smith, who went with an emerald green ruffled gown with a huge train (by Jean Paul Gaultier).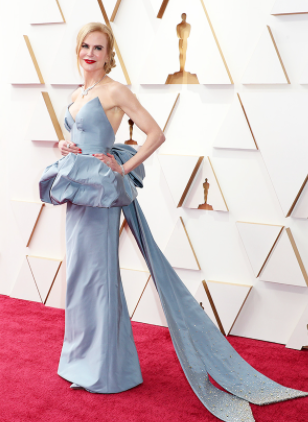 Now for what the heck went down with Will Smith and Chris Rock. Chris Rock made a joke about Jada Pinkett Smith's lack of hair. She has alopecia, an autoimmune skin disease that causes hair loss all over your body. In a shocking turn of events, Will Smith slapped Chris Rock for the comment and told Rock to keep her name out of his mouth. If you were watching in the US, this was censored. Despite the assault, the show continued. Will Smith later publicly apologized on Instagram to the Academy, producers, attendees, and viewers. 
As the awards ceremony continued, Will Smith received an award for Best Actor in King Richard. Dune racked up several awards, including Best Cinematography, Best Visual Effects, Best Sound, Best Production Design, and Best Editing. Cruella won Best Costume Design, and Encanto got Best Animated Feature Film. Billie Eilish won Best Original Song for No Time To Die. 
After the awards ceremony, many celebrities continued to the Vanity Fair After Party after switching outfits. Despite the earlier incident, Will Smith showed up midway through the party with his family. There, Vanity Fair had set up an open-air space that covered one city block (two tents with bars and a courtyard in between.) The party continued for some time, with many celebrities mingling, dancing, singing, and talking the night away.