Spotlight on 2021 Spotify Wrapped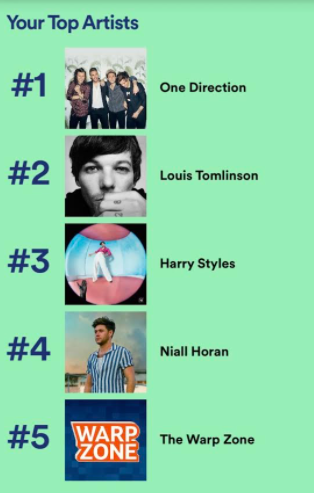 2021 was a crazy year for everyone. It was full of new, complicated, and sometimes challenging experiences. One thing that lots of people did in 2021 was listen to Spotify to relax. Spotify has  around 381 million monthly active listeners. It is an app that offers music, podcasts, and more. In 2016, Spotify released a new feature, Spotify Wrapped, that comes out towards the end of every year.
Spotify wrapped gives an individual, musical overview of the year for each person on the app. Spotify Wrapped shows listeners all of the songs, podcasts, and artists listened to throughout the whole year. It also includes top songs, artists, and podcasts. The biggest hit song globally on Spotify was drivers license by Olivia Rodrigo. Olivia Rodrigo was very popular, seeing that her album Sour was the most played this year. The top artist of 2021 was Bad Bunny. Other top artists were Justin Beiber, Dua Lipa, Taylor Swift, and Lil Nas X. 
As for podcasts, the top five this year were a mix of comedy, feminism, daily podcasts, and crime podcasts. 
Additionally, Spotify Wrapped spotlights the listener's favorite artist and tells them how many minutes they listened to the artist. It also says what percent you were in of the artist's listeners, such as  1% or 0.5%.
Spotify Wrapped even creates a playlist of the listener's favorite 2021 songs and how many minutes they listened to Spotify altogether. Spotify Wrapped also provides a feature; "Two Truths and a Lie." It shows three statements about the music overview and asks the listener to pick the true one. This game also can be shared with others to see how well they know your music taste. If you want to access your very own Spotify Wrapped, open the app and look on the home screen. Or, type 'Wrapped' in the search bar. 
In closing, Spotify Wrapped is a neat and easily accessible way to view a listener's musical year. We hope you check it out!