Ottoson Art Club Designs and Constructs a Public Art Installation to Represent Arlington's Flora and Fauna
At Ottoson Middle School, the Art Club has taken on a project to create an art installation for the Broadway Plaza in Arlington Center. They have decorated the large orange barriers that block off the public outdoor seating area from the parking lot. 
The theme for this installation is "flora and fauna of Arlington," which represents the plants and animals that can be seen around town. The artists have expressed the theme by using large, simple, cutout shapes of plants and animals in vibrant colors to contrast the bright orange barriers. As to how this theme was decided upon, Samantha R., an 8th grader, and Art Club officer, explained in an interview with the Insider that "Animals and plants just seemed like a natural course of action." Samantha stressed how it was easy for the club to come to a consensus on the ideas and designs, and pointed out that they hadn't had many disagreements. 
The planning process began on a Padlet where the art club members posted very simple contour sketches of plants and animals. "We would think about what animals we see around Arlington, and how we could figure out the most common and the most simple," Samantha told the Insider. The club then narrowed these ideas down and eventually decided which large animal they wanted to put on each barrier and what other colors and pieces they wanted to include.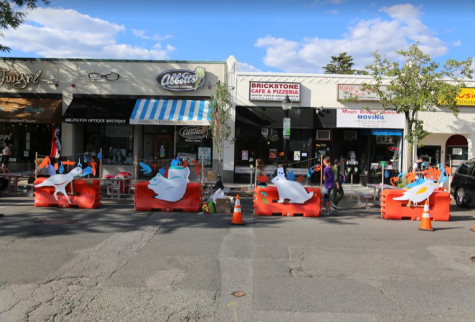 This art installation consists of large animal and plant cutouts which are attached to the barriers using wire. In addition, two poles are placed on either side of each barrier with fishing line strung between them. On the string, smaller elements such as flower and insect-shapes will be hung. 
For the actual creation of the installation, once the planning was complete the club was ready to start painting large poster board cutouts. The construction of the pieces began the week of May 31st and the actual installation took place through the week of June 14th. This project is now finished and fully installed, and can be seen in Broadway Plaza.