Choco-bout This: VEGAN Chocolate Cake Spheres
Here we are.
Well folks, here we are, at the end of the year. This is my very last post for Spicing Things Up, due to the fact that I graduated today. Never fear, though, this week, I go out with a bang with the long-promised vegan recipe. 
Cocoa Powder (& Vanilla?)
Despite having all of the key characteristics of being a spice, cocoa powder is not actually a spice. Despite vanilla not having what I consider to be key characteristics of a spice, it is considered one. The injustice. Cocoa powder is from the seed and fruit of the cocoa plant, and it's dried and then ground up to create the powdery texture we know. Vanilla is most commonly found in vanilla extract or raw vanilla pods, rarely dried. Although the loose definition of a spice is that it is a flavoring used in food, I would think that includes cocoa powder as well. I'm not sure if I've been getting this all wrong– in that case please let me know! =D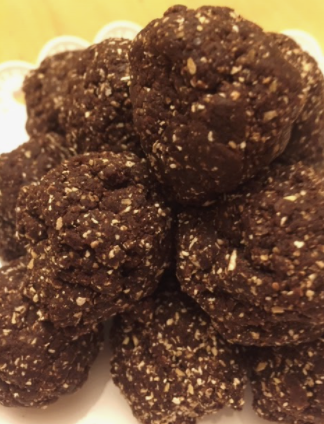 Chocolate Cake Spheres
As a non-vegan person, I found recipe development very difficult. However, I stumbled across a thing called Bliss Balls, which I figured I should rename due to the immaturity of middle schoolers. Anyways, most of these included coconut and dates and all that good stuff. Due to allergies, I was unable to put in coconut, so I created my own recipe. Admittedly, they weren't my favorite. Rather dry. However, if you just dunk them in your favorite vegan milk, they're pretty good!
Well, that's it. As much as I would have liked to end on a high note, I am so happy looking back at all the recipes I made. My favorite was the apple pie cookies. =) The recipe is below as always.  So now that I am graduating, I am going to hang up my apron and relinquish my role as the Spice Girl.  
Most sincerely yours, 
Sophie
Recipe
Makes: 16 spheres
Prep Time: 7-8 minutes
Cook Time: None
Difficulty: Easy-Intermediate
Ingredients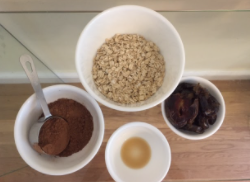 -7 dates, pitted
-1 cup+2 tablespoons rolled oats
-½ cup cocoa powder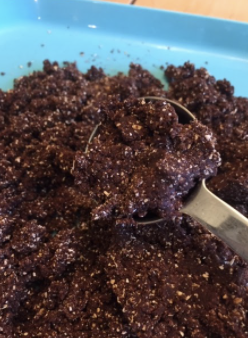 -½ teaspoon vanilla extract
-2 tablespoons water or as needed
Optional: glass of vegan milk!
Add all of the ingredients except water into the blender and blend.

The consistency will likely be crumbly and not stick together. Slowly

add in water and mix. When the mixture appears to stick together in a way that makes you happy, dump out the contents onto a plate.

Roll the dough into 2 tablespoon sized balls, or as desired.

Place on a tray and refrigerate for an hour to set the dough. 

When ready to serve, take them out of the refrigerator. Serving with milk is highly recommended!

Enjoy!