Ottoson Choral Groups Display Year of Work in Virtual Concert
The Ottoson Choral Program students' work was presented in a virtual concert on April 30. The event premiered on the YouTube channel of Arlington Community Media Inc. (ACMI). It included performances from the 7th Grade Chorus, the 8th Grade Chorus, and two after-school groups, Harmonics and Bel Suono. 
Each group performed a full song, accompanied by a
video, and a singing round (a shorter song based on repetition) without video. Some of the songs have been developed since September. Ms. Cori Smith, the chorus teacher, (known to students as Smitty) says "In December, [chorus students] submitted videos and audios of their voice parts. I used Logic Pro to arrange the audio files and Final Cut Pro to arrange the videos." The final result was a series of videos, in which the singers' faces were arranged in a grid throughout the screen. The editing of the video, though, was a long process. Smith says that "There were over 200 students involved and my [editing] program crashed many, many times. The district had to upgrade my computer to be able to hold all of the files." After much work, the concert was finished and streamed for all to see. 
In the concert, the 8th-grade chorus performed "There Is More Love Somewhere" and "Music Alone Shall Live," the 7th-grade chorus performed "I'm Not Giving Up" and "Jubilate Deo," Harmonics performed "Happier" and "White Sand, Grey Sand," and Bel Suono performed "Catalina La O" and "Bele Mama." The songs ranged from arrangements of pop songs to folk songs. Some of these songs meant more this year specifically. Smith says that she chose the pieces "I'm Not Giving Up" and "There Is More Love Somewhere" because of their positive message, which she wanted her students to experience. 
Chorus class this year was certainly different because of the virtual transition. Students couldn't hear each other as they sang, and it was hard to mark achievements. Remote learning did not come without its challenges, and Smith notes that not knowing if students were engaged made learning much harder. Despite the challenges this year, the choral department continued and created this concert to display their efforts. Smith's goal was to "keep as many kids as possible in the program and to keep everyone singing as much as possible. My plan was to create a virtual concert the same way we work towards a live concert in non-pandemic years." 
When asked by the Insider what she wanted students to take away from this year's chorus class, Smitty said that she wanted them to know "how loved they are [by me] and others. That even during a pandemic, art is still beautiful, and when we come together to create music, it helps us to cope with hard times."
The concert can be viewed here: https://www.youtube.com/watch?v=xZ6Ji3Ynl_Q
About the Writer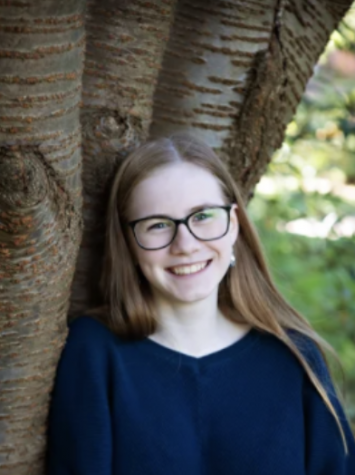 Mia V., Journalist
Mia Vakoc is a  journalist for the Ottoson Insider. She is also a member of the Computer Science Club and Drama Club. Outside of school, Mia enjoys writing, climbing, and singing.