One Word for 2020, Two Words for 2021
2020 was a chaotic-and frankly very difficult-year for everyone. Crisis after crisis kept coming and continues to come, but despite the losses, many communities are still pushing through. Many people, understandably, might not want to think back to the events that unfolded last year. However, in order to move forward, it is important to first recognize the events and mistakes of the past and learn from them. 2020 started off with a bang, as wildfires from 2019 continued to ravage the Australian landscape. On top of that, a virus known as COVID-19 sprung up in Wuhan, China in late 2019. A couple of months into 2020, travel restrictions were enforced by countries around the world and the World Health Organization (WHO) declared COVID-19 a pandemic.
In the spring of 2020, the COVID-19 pandemic started to pick up, and a sharp economic downturn caused millions of Americans to file for unemployment. As many students might recall, March 13, 2020, was the day Ottoson Middle School ended in-person schooling. That day, there were 123 COVID cases reported in Massachusetts. By the end of that month, there were 6,620 reported cases, but 2020 wasn't nearly done yet. On May 25, 2020, a man named George Floyd was killed by Minneapolis police officer Derek Chauvin. Chauvin placed his knee on Floyd's neck and held it there for eight  minutes and 46 seconds, despite Floyd repeatedly crying out, "I can't breathe!" Floyd's death sparked anger across the country over the way Black people are treated in the United States, and soon after, the Black Lives Matter (BLM) movement gained momentum not only around the country but around the world. The killings of Ahmaud Arbery and Breonna Taylor also added fuel to this international movement.
Throughout the summer, the COVID-19 pandemic raged on. Cases per day dipped and plateaued throughout August, but total confirmed cases kept rising. During this time, wildfires burned millions of acres and took lives across Western America. On September 18, 2020, 87-year-old Ruth Bader Ginsburg, a Supreme Court Justice and women's rights activist, passed away. At this point, the November 3rd presidential elections were looming on the horizon. Democrat Joseph (Joe) Biden Jr. and his running mate Kamala Harris opposed the incumbent Donald Trump and Vice President Mike Pence. On November 7, 2020, after an extensive ballot counting process, Joe Biden crossed the 270 electoral vote threshold and won the election, becoming the President of the United States. 
At this point, 2020 was almost over. Unfortunately, throughout November and December, driven in part by holiday traveling, COVID-19 cases soared in the United States. December 19, 2020, saw a shocking 402,270 new cases of the virus. To put that in perspective, just a few days earlier, on December 14, there were only 180,420 new cases. By the end of 2020, the United States had recorded almost 20 million COVID cases in total. And, worst of all, hundreds of thousands of people in the U.S. were killed by the virus by the end of the year. Fortunately, scientists who quickly began work on an effective COVID vaccine were successful, and multiple vaccines became available at the end of 2020.
 Overall, 2020 was a difficult year for the majority of people. Many members of the community lost friends and loved ones, and many people have been hit hard by the economic downturn that came with the pandemic. So many things happened last year that it's hard to write this piece knowing that so much is being left out; Kobe Bryant's death and the presidential debates, to name a few. Still, we pushed through it all, and what's important now is that we realize what went wrong and where.  By recognizing our errors we can fix these mistakes to ensure that there won't be another 2020 for a long time to come.
For some, it may have been enjoyable to connect with friends and family in new ways in the past year, but for others it may have been a struggle to remain calm and upbeat during quarantine. However individual people perceived 2020, it was historic for everyone. As we move through 2021, many carry a variety of feelings with them.  And as people who share a common experience, we want to know how others feel after being trapped in the belly of the beast, so to speak, and how people view the future. Our project mission is to provide a platform for thoughts about 2020 and 2021 in order to allow individuals to relate to one another. When we started this article, we knew we had to gather information on peoples' thoughts about 2020 and hopes for 2021, so we created a Google Form as a way to quickly obtain responses. The form was designed for students at Ottoson Middle School (OMS) because we know that students have undergone many unique experiences in the past and current year.
                                                                              Student Thoughts On 2020
The results of the survey show that 2020 holds a very negative connotation for many people. Respondents described the year as "bad," "awful," and "a disaster."  One profound response described 2020 with the word "loss," as the survey-taker reflected on how everyone has had to make sacrifices during the pandemic. Another group of people  felt that 2020 was marked by inconsistency, using words such as "tumult," "fluctuate," and "rollercoaster." The survey-taker who answered "fluctuate" stated that they felt that "there was little stability and warning to what was going on." Some other responses indicated that people were feeling overwhelmed by the many events of the year. One respondent called the year "unimaginable," adding that they were at a loss to describe everything that had happened. Another person simply stated that the year was "CRAZY." Despite all the negativity and instability that respondents characterized the year as holding, there were a few survey-takers who felt that 2020 was the start of big changes in society. One person said that 2020 was characterized by "new beginnings," saying that the year was "the beginning of an era for vaccines and […] for racial equality in America," referring to the Black Lives Matter protests and the historic speed at which Covid-19 vaccines were developed. Another respondent with similar ideas selected the word "revolution" to describe 2020, saying, "so much of 2020 was society's collective failures coming to a boiling point," and detailing the exacerbation of racial injustice, political unrest, healthcare inequality, and the botched pandemic response.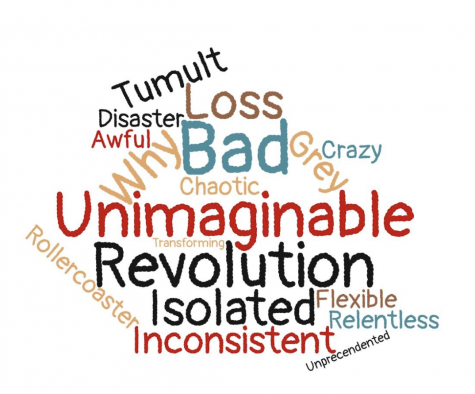 Student Thoughts On 2021
As much as the Insider wanted to learn about the experiences of individuals during 2020, we were also interested in seeing what people's feelings are in regards to the future. When we asked about what people predicted for 2021, we received a myriad of answer themes. Some responses were focused on the notion of not repeating the past year (and all the turmoil that came with it) and focusing on, as one participant wrote, a "new beginning."  Interestingly enough, another respondent used the term "new beginning" to describe 2020. Another survey-taker provided the words "don't repeat." "I believe this needs no explanation," they wrote, when asked why they chose the phrase they did. While many expressed positive views of the future, some were still apprehensive about 2021. "…I think being so young while [all this turmoil] is happening has really ruined my sense of hope," said one student. Another student warned that "things like climate change, racial injustice and COVID-19 aren't going away anytime soon." Still, despite this dire warning, multiple survey-takers offered a hopeful solution to the future; unity. "[I]f we work together, we can make substantial progress towards a more just and sustainable future." Others focused more on aspects of life related to reshaping society and government. One individual hoped to "rebuild what we lost as a community," and "redesign some aspects of life that were not working." Some people looked forward to a return to normality after everyone is able to get the COVID vaccine. One student chose the words "build back," saying they associated 2021 with "Build Back Better," the campaign slogan used by President Joe Biden and Vice President Kamala Harris. "Justice" was another word that was supplied by a respondent who said we should "…make this the year that we overcome our broken systems." Another group of responses was concentrated on what one's personal life will look like upon returning to a post-pandemic world. A participant chose the words "shopping" and "Maine," to describe 2021, saying that they are looking forward to "shopping again with friends," and that they "really miss" their house in Maine. Another student found themself anxious to get back to in-person school. One response noted that "everything feels sunny and hopeful" when we "com[e] back to a sense of normalcy." From these responses, there is a clear trend that people are waiting to get back to normal as soon as possible and are hoping that different aspects of society will improve in 2021.
Despite the many challenges and hardships of 2020 and early 2021, many people have been taking solace and finding hope in different forms. Around two-thirds of survey-takers were able to find hope somewhere in their life. For those who can find hope, comfort comes from different sources such as communicating with friends, spending time with family, or even watching a new TV show. One respondent noted that they began watching Grey's Anatomy, which is a medical drama. Another respondent highlighted some small yet hopeful moments they experience in day-to-day life. "Sometimes just the small moments like laughing with my best friend or seeing my dog wag his tail when I come down the stairs [helped me stay hopeful]." Another survey-taker responded, "I have made really good friends, and even though it was very hard to see any good come out of last year, they brightened my life." Another response mentioned being inspired by the creative ways in which people are staying connected and standing up for justice. Many survey-takers also noted specific events or societal changes that gave them something to celebrate or think about, such as when Biden won the election, the BLM protests, and the vaccine rollout. For many students, the idea that school, clubs, and life, in general, will one day return to a new normal is what's keeping them going. 
                                                                                Looking Forward
It is important that everyone keeps hoping and finding hope in one form or another and helping others stay hopeful too. Especially because of the different vaccines now being distributed, a return to a new normal seems more likely. As Ottoson and society overall focus on what is ahead in 2021, people should also look back on the pandemic-period that began for many in March of 2020. By reflecting on what has happened and looking to the future, we can be mindful of all the sacrifices and hardships we have endured and overcame to get to where we are today. We must continue to strive to get to where we one day hope to be.