Arlington EATS Combats Food Insecurity With Beats for EATS Scavenger Hunt and Auction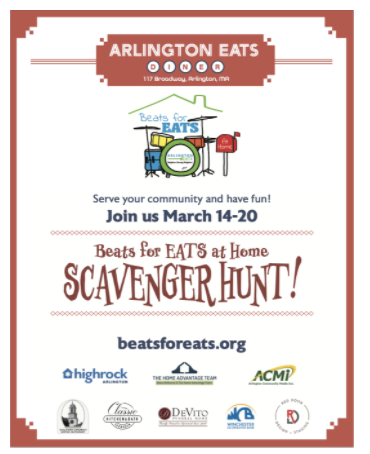 *This article provides some answers for the Beats for EATS Scavenger Hunt Fundraiser happening between the 14th and the 20th of March.*
During the COVID-19 pandemic, there's been an increase in food-insecure people, putting a strain on food pantries such as Arlington EATS. For Arlington EATS, volunteer hours and opportunities have been cut down, their food delivery system had to be reworked, and many changes had to be made in the ways they help the people who rely on their services. However, there have been glimmers of hope. Construction of the new EATS market continues, and there have been more willing volunteers than ever before who are helping to feed our community. This year, instead of the Beats for EATS gala that they usually host around this time of year, Arlington EATS is hosting a scavenger hunt and an auction that will serve as a fundraiser and fun for the whole family. 
Andi Doane, Executive Director of Arlington EATS, defines the local food pantry's mission as "working to make sure everyone in Arlington has access to food." Doane and her partners have been feeding Arlington residents for seven years, and she was hired as their first-ever Executive Director in 2015. Doane says that the EATS slogan, "Neighbors Serving Neighbors" represents what our Arlington community is about: everyone has everyone else's back.
There are approximately 4,350 food insecure people in Arlington, although the number has gone up since the pandemic began. Food insecurity, as defined by Doane, is having to skip meals or reduce the amount you eat because you don't have the money to buy food. One in five kids in America is food insecure, and being hungry makes it hard to focus in school and have fun. 
Food insecurity isn't something that gets talked about a lot, and Ms. Doane gives her perspective on why. "I think there's shame in being food-insecure. You don't want anybody to know that you can't afford to buy groceries… and I think that's something we have a lot of work to do [on], to be able to break down that barrier." Ms. Doane says that EATS has worked very hard to make sure that they provide fresh food to all of their customers, things that anyone would buy in the grocery store, not just canned goods. "We don't want people to feel like they're getting… something that someone else doesn't want."
Arlington EATS and its partners work to provide culturally appropriate food. "We actually serve a lot of immigrants" Ms. Doane explains. Right now EATS serves a group that can speak over 15 different languages, collectively.  "Not everybody… eats an American diet, so we try to provide foods that someone else would want to eat." She explains that people from different places want different things, foods they are used to and like to eat. When people could pick their own food, she says, EATS  made sure to provide translations in Mandarin, one of the most spoken languages among foreign customers, along with a few other languages to make sure people knew what they were buying. 
A lot of the food that Arlington EATS distributes comes from The Greater Boston Food Bank, a huge warehouse located in South Boston. During the summer months, Arlington EATS also gets extra produce from the Arlington farmers market. A team will go out and collect the unsold items from farmers and bring them back to EATS. Food Link is another local Arlington organization that is a partner of EATS. They go out to grocery stores and "rescue" foods that would otherwise get thrown out, such as food that isn't selling or is not the ideal shape. 
Recently, EATS has been serving about 275 families every week. In contrast, before the pandemic, they served around 165 families. Arlington EATS has risen to the challenge, meeting the increased need. Currently, they distribute about 9,000 pounds of food a week. Since families get to pick what foods they want, a family could get anywhere from 20-40 pounds of food a week. 
The Arlington EATS market that is currently being built on 117 Broadway will give the organization its first real home. "We'll have almost like a…mini-grocery store," says Doane. "It's going to have shelves like you'd see at Stop and Shop, produce islands with bins with fresh produce in it, [and] a walk-in refrigerator and freezer so that we'll have a lot more storage space to be able to get stuff and put it out for people." She describes the grocery-store-like design as a way for people to stop feeling shameful about their hunger. The new market will also have a community room that can hold classes or host speakers. EATS will be partnering with other agencies to help combat causes of food insecurity for families. Whether people need an affordable day-care program for their little kids, a way to pay off their electricity bill, or help finding affordable housing, Arlington EATS aims to meet the community's needs.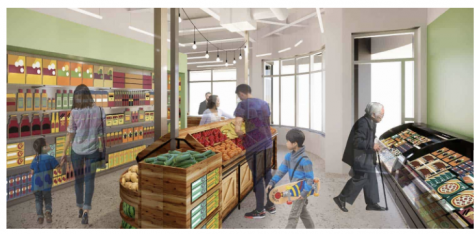 Doane says that one of the biggest misconceptions about food-insecurity is that it could never happen to you. Anyone can be food-insecure. It just takes someone falling ill or losing a job for you to need the kind of help Arlington EATS provides. Another misconception is that food-insecure people are to blame for their situation. "There are so many other issues that are beyond anybody's control that could lead to food-insecurity that it's no one's fault… it just happens to us," said Doane. Another misconception that Doane mentioned is that food pantries don't provide healthy food. "'[People think that food pantries] provide canned-goods, they provide snacks. […]We do, but we provide so much other stuff as well." 
Doane wants people to have empathy, and try to understand what it would be like to be hungry all the time. "When you're grocery shopping, encourage your parents… 'let's get something that's on the list this month for Arlington EATS and let's donate to our own community.'" 
Arlington EATS gets a lot of its food through community donations. On their website, they have a list of foods that anyone can donate. The list contains a wide variety of foods that the organization can't get from any of its other partners. Only four paid staff members work at EATS. Over 500 volunteers work to keep the non-profit going, driving food out to people, packing and unpacking trucks, and so much more.
If you can, please consider donating extra food or your time to this local non-profit organization. Full list of foods for donation at ArlingtonEATS.org
Participate in the Beats for EATS scavenger hunt here!
Participate in the Beats for EATS auction here!