Take Time to Smell the Roses(mary!): Rosemary Crackers
Hi Again!
This week, we're trying something savory: rosemary crackers! These crackers have a unique rosemary taste but pair well with almost any dip. 
Rosemary
Rosemary, also known as Salvia Rosmarinus, is known for its needle-shape and strong scent. It's quite polarizing – some people love it and some people despise it. Personally, I think it has a really great taste and a wonderful scent! Rosemary is often used with meats and in stews. Today, we get rosemary flavor almost all to itself, because the most important ingredient in today'scrackers is rosemary!
Rosemary Crackers
For this recipe, we used a rosemary cracker recipe from the book Bread (by the Academia Barilla), with a few alterations such as the use of spice rather than fresh rosemary. If you're looking to venture into the realm of bread, crackers are a super-easy way to get introduced without very serious consequences. If by any chance your dough doesn't rise, all you get is tough crackers. If that happens, just blend them to make bread crumbs, or add cheese to make your bread crumbs croutons!
Well, that's all I've got for today! The recipe is attached below.
Best, 
Spice Girl
Recipe
Makes: 5 servings of crackers
Prep Time: 10 minutes
Total Rise Time: 50 minutes
Cook Time: 15 minutes
Difficulty: Medium (for the average person. With bread experience, this is a piece of cake!)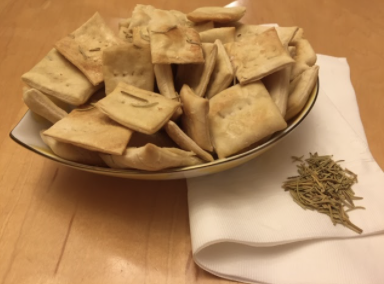 Ingredients
-2 cups of all-purpose flour
-½ cup + a tablespoon of warm water
-1 sprig of rosemary OR ½ a teaspoon dried rosemary
-¾ teaspoon active dry yeast
-2 ½ teaspoons extra virgin olive oil
-¾ teaspoon salt and more for garnish (to taste)
Soak your rosemary in the oil. This will just flavor the oil and extract more flavor from the rosemary, as well as rehydrating it a bit. Also put your yeast in the warm water, so it dissolves and activates. 

Put down some bench flour (a fancy way to say flour on the table!). Dump your pre-measured and pre-sifted flour on the table and make a well (see my cayenne pepper post for tips on that!). 

Add your yeast mixture in the well, gradually. After it's well incorporated, it should be flaky and sort of unformed, but you can pick up the chunk. I find that benchmark descriptions really help, but if you find this confusing, and you'd like the technical term, it's "loose dough."

Add in your rosemary and oil mixture. Our dough turned out to be a lot less smooth than we hoped, but it was okay in the end. Ideally, it would be a smooth, soft, and round dough.

Rest the dough for 10 minutes. Usually, you'd use plastic wrap to cover it, but a great eco-friendly alternative would be to use a wet towel with hot water.

Roll out your dough as thin as possible. It will puff in the oven, so if you don't want super thick crackers, you'll want to roll out the crackers super super thin.

Cut your crackers into your desired size , and then put them on a baking pan lined with parchment. In our house, we have really cool silicone "parchment" that we like because it's reusable, however, parchment is great too!

Put the crackers in a warm place for 40 minutes.

After 40 minutes, prick your crackers with a fork and bake. Tip: Whenever making a flatbread or cracker, pie crust or anything that needs to be flat, poke holes! This prevents the air pockets from expanding too much in the oven. 

Bake for 15 minutes, or until golden brown.

Top with salt and enjoy!