It's "Basilly" the Best Thing Ever: Tomato Basil Soup
Hello World!
I hope you're excited about today's new recipe, tomato basil soup! We're going to find out what basil is, where it comes from, and how to make this surprisingly easy recipe.
Basil
Basil is a plant and an herb. Lots of people use it fresh, but it's also common as a spice when it's dried up. Basil's scientific name is Ocimum Basilicum, and surprisingly, it's from the mint family. Who knew! Basil is often used with vinegar, fruits, beef, nuts, and most commonly, tomato! Today, we're using this classic tomato-basil flavor pairing to make a perfect basil soup!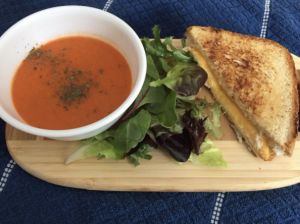 Tomato Basil Soup
This is a recipe that I created with the help of my sister, Z. I would say it's perfect for a cold day… except tomatoes aren't in season. For this recipe, we used canned tomatoes we had on hand from our COVID pantry. Never thought I'd say that. For our meal, we served it with a grilled cheese sandwich (a classic pair), and a salad. For all you health nuts, just so you know, I ate more salad than what's on the plate! It just didn't fit on our fancy cutting board. =)
                                                                                               Check in next Monday for more spices and more recipes!
                                                                                               Sayonara!
                                                                                               Spice Girl
Recipe
Makes: 4-5 servings of soup
Prep time: 10 minutes
Cook time: 25 minutes
Difficulty: Easy
Ingredients
-29 ounces canned tomato (Two 14.5 ounce cans)
-1 onion
-7.25 ounces chicken stock/broth
-5 whole peppercorns or 1 teaspoon ground pepper
-½ tablespoon dried basil, plus more for garnish
-1 tablespoon sugar
-3 tablespoons of oil (any vegetable oil will do!)
-Salt to taste
Chop your onions. Put them in a pot with 3 tablespoons of oil, on medium heat. Cook until tender and translucent. We used avocado oil because we didn't have anything else, but any vegetable oil should work well! Olive oil creates the best flavor.

Add in your tomato and chicken stock. Cover and simmer mixture for ten minutes. 

Add in your peppercorns. Only use five, a little goes a long way! If you don't have whole peppercorns, ground peppercorns work too. Give it a generous grind! Turn heat down and simmer for another ten minutes.

Remove from the stove and blend the mixture! 

When at a smooth consistency, add in your basil, salt, and sugar. Mix.

Garnish with more basil, and enjoy!