Tick, Tick…BOOM! The Oscar Deserving Netflix Movie No One Expected
The story of Jonathan Larson is a tragic one. He dedicated his life to writing musical after musical, throwing them at the wall, and none of them stuck. Until RENT. In 1996, Larson's semi-autobiographical musical was a smash hit. It rose quickly to off-Broadway status. However, the morning of the first performance of RENT, Larson was found dead in his apartment. He never got to see his magnum-opus come to life the way he had always dreamed it would. Tick, Tick…BOOM! Came out on Netflix in 2021. It's the auto-biography Larson wrote about himself made into a movie. Directed by Lin Manuel Miranda of Hamilton fame, it stars Andrew Garfield as Jonathan Larson.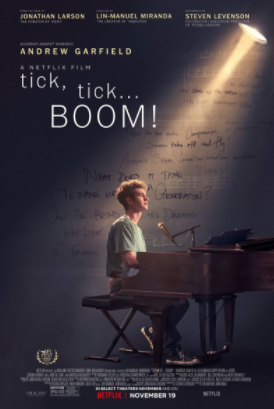 This may be a bit confusing, but Tick, Tick…BOOM! Is actually the musical Larson wrote about his own life in between the musical the show focuses on, Superbia, and the previously mentioned RENT. It never made it to off-Broadway, but Larson performed it at a few "rock monologues". Roughly half of this movie is a recreation of a particular night, with Garfield and the few others on stage even dressed the same as the real people were on that night. The other half is shot like a movie musical. The beginning has a voice over that states, "everything you're about to see is true, except the stuff John made up". 
The story of Tick, Tick…BOOM! Starts with Larson days away from his 30th birthday, the song 30/90 sets up Larson as a chaotic writer and thinker, worried about his legacy. Legacy runs as a theme in the works of director Lin Manuel Miranda. The famed Hamilton centers around Alexander Hamilton and his legacy. Miranda has stated he relates to Hamilton in this way, so it makes sense he would infuse a similar theme into another project of his. Back to the story, Jonathan Larson has been working on the musical, Superbia for six years. He lives in a tiny apartment in New York City and has less than a week until he has a first sing-through performance for the theater community of New York, where he hopes to sell his show. There's only one problem, he's missing a song. He works as a server at a diner during the day, writes at night, and his girlfriend has just gotten a crazy job offer that would require her, and by proxy him to move upstate. The film does a wonderful job of exploring the chaos of Larson's life. 
Andrew Garfield is nominated for an Oscar for his performance in this movie. He absolutely deserves to win. This movie is a celebration of musical theater and Jonathan Larson, and is a ray of hope for all the struggling artists all over America, especially in New York City as a reminder you can make a difference. It's realistic for New York at the time, with incredible racial and LGBT representation. It's so refreshing to see a movie where more characters are gay than aren't, and no one makes a big deal out of it, at least not directly. The AIDS crisis is a prevailing theme, with several of John's close friends either being introduced with AIDS, or revealing over the course of the story that they are HIV positive. During one of the stage portions, John says he'd "been to three friend's funerals last year, the oldest one was 25." No one outright says they died from AIDS-related illness, or this is my gay friend, my co-worker is trans, etc. I can't get over how concerning it is that that's a novelty. Members of the queer community shouldn't have to be tokenized, but it happens so often in movies. Jonathan Larson was known for being incredibly progressive. The discussion of race, and queerness in RENT was revolutionary, but it was simply because John described his life in New York City in the 90s. It was his truth. 
The Oscars are this Sunday, March 27th at 8 pm. Andrew Garfield is nominated for Best Actor, and I'll be rooting for him. If you haven't checked out Tick, Tick…BOOM! I highly recommend it. It's fun, emotional, and overall just phenomenally done.
Monday, March 28th UPDATE:
Andrew Garfield did not win Best Actor, instead it was awarded to Will Smith for King Richard