Ottoson Drama Club Puts On Production 'Annie Jr' For the First Time Since 2019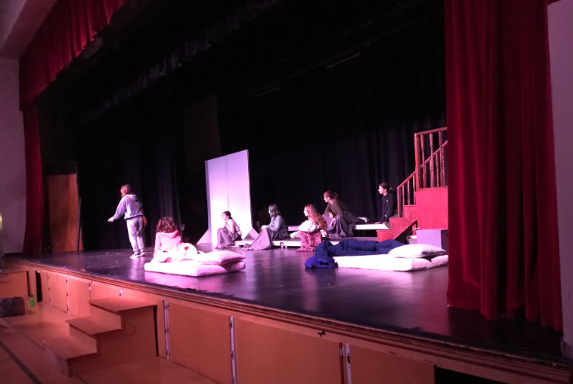 Every year, Ottoson Drama Club puts on a Spring musical. This year, the performance is Annie Jr. The musical Annie first was written based upon the comic strip by Harold Gray, "Little Orphan Annie", and the 1885 poem "Little Orphan Annie" by James Whitcomb Riley. In 1972 Martin Charnin, a Broadway lyricist and director, asked Thomas Meehan to write a book based on his comic strip. Meehan read the comic strips, but he saw that only the characters of Sandy, Annie, and Mr. Warbucks were suitable for a musical-so he decided to write his own story using those characters. Charnin and Strouse (a composer and lyricist who also wrote the music to Annie) accepted his book but cut out some material. Later Annie Jr was created by Music Theatre International's Broadway Junior collection. Some songs and lines were removed or shortened, but much of the story is the same. 
Ottoson's production of Annie Jr. is this year directed by Jenna Fernandes (known as Fernandes to the cast), Cori Smith (known as Smitty to the cast), and Randie Flynn (known as Flynnie to the cast.) When asked how she thought Annie Jr. was going to turn out, Ms. Fernandes said: "Oh, I think it's going to be great…We have great talent, and we've built a good community. I'm very confident." It is the first time the drama club has repeated a musical (Annie Jr. was also performed in 2016); "We knew it was going to be a difficult year, just coming back after COVID, and having kids who are less experienced than they've been in the past. So we wanted to do something that we knew well, just to kind of ease us back into it as well." explained Ms. Fernandes. She then went on to give examples of how much COVID has impacted the drama department at OMS, saying; "It's definitely a re-building this year, just trying to reestablish the norms and the culture and…teach kids basic things like how to open the curtains what the drama closet is…all of those things need to be taught,"
This year, eighth grader Charlotte Sanzo plays Annie. When we asked how she thought it was going to turn out, she said,"Everybody here has been working so hard…Flynnie and Fernandes and Smitty are amazing and they've taught us so much. I think it's going to be amazing." With rehearsals until 6:30 or later for a couple of weeks before the show,  the cast and crew have been working hard; "It's a really great community too, and like everybody here is so amazing and kind and you make so many friends. I'm really so happy to be a part of it." Charlotte Sanzo said. 
For the first time in their history, the musical has understudies. There will be an understudy performance during school on Friday, May 6th. This will not be open to students, only the parents of understudies performing, and teachers. This performance will open with Louisa Snell as Annie, Sophia Hallett as Hanigan, YouYan Wang as Warbucks, Moon Hackbarth-Davis as Grace, Beckett Thomas as Rooster, Nadia Hackbarth-Davis as Lily, and other understudy actors. Later that day, at 7:00 pm, there is another performance that is not an understudy performance. Charlotte Sanzo is Annie, Lucy Pyle is Hanigan, Matthew Lee is Warbucks, Charlotte Martin is Grace, Clover Furtado is Rooster, and Fiona Baxter is Lily. There are two other main cast performances on Saturday, one at 2:00 pm and the other at 7:00 pm. Tickets are ten dollars, and can be bought online through a QR code on posters around Ottoson and hanging up in businesses around Arlington. We hope to see you there! 
BUY ANNIE TICKETS HERE: https://www.onthestage.tickets/show/ottoson-musical/annie-jr-34264